Share Vinegar Tips, Cures and Recipes with Grandma
Click Here to Share Your Vinegar Tips


Vinegar tips and recipes have been passed down through generations. Share some of your vinegar knowledge with Grandma and the world. Read what other visitors wrote about vinegar cures and home remedies.
Some of the best cooks use different types of vinegars in their special recipes. Do you have a special recipe you'd like to share with visitors?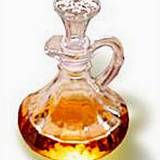 Vinegar is one product used all over the world. The different verities of vinegar are endless, so are the many uses. Vinegars are used for home remedies, cures, tonics, preserving and pickling. Specialty vinegars are used in secret recipes and delicate dishes. Take a little of your time today and share some of your vinegar secrets with the world.
One friend and visitor to Grandma's Wisdom sent an email to suggest:
Regular distilled Vinegar is also great for preventing head lice from getting on your child's head. When my kids were in school they were infested a couple of times. Each time parlayed into a major expense to rid the house and them of lice. It was also painful making them sit still for long periods of time to comb their hair. We started having them rinse with vinegar every few weeks during outbreak season and that kept them from getting it again.
It also helps remove chlorine residue from your hair after swimming. It's pretty useful stuff.
Margaret from Ohio
Thank you Margaret for that useful distilled vinegar tip!
The form below is designed to be easy to use. It's no more difficult than sending an email, all you have to do is type. Try it, you'll soon discover how easy it is to share your vinegar tips, tricks and recipes with the world. Do you have a picture of a favorite dish or any kind of vinegar picture you'd be willing to share? We love seeing pictures too!


Do You Know A Good Vinegar Tip?
Share your vinegar tips, tricks and recipes.
What Other Vinegar Tips Visitors Have Shared
Click below to see contributions from other visitors to this page...

DISCLAIMER:
The statements made here have not been approved by the Food and Drug Administration. These statements are not intended to diagnose, treat or cure or prevent any disease. This notice is required by the Federal Food, Drug and Cosmetic Act.



Return from Your Vinegar Tips to Grandma's Vinegar Tips and Tricks

Return to Grandma's Wisdom Home